It's been scientifically proven that spending time outdoors is good for your mental and physical health. Even if you're not an avid fisherman, a fishing backpack can be invaluable when you need to pack up for a day or weekend getaway.
When you're out on the water, you need to have all your fishing gear with you. It can be hard to find a backpack that's large enough for everything but still comfortable to wear when walking around in the sun and heat. Fishing backpacks are the perfect way to carry all of your gear so that you can spend more time enjoying nature and less time carrying things around with you.
You've come to the right place because we're going to show you a review of some of the best fishing backpacks on the market. We'll talk about design and features so that you can make an informed decision before making your purchase.
Top 5 Best Fishing Backpack
We've compiled reviews of the top 5 fishing backpacks on Amazon based on factors such as durability, portability, water resistance, and ease of use.
When you buy through links on our site, we may earn a small affiliate commission at no additional cost to you.
Ghosthorn Fishing Tackle Backpack
Ghosthorn Fishing Backpack Tackle Sling Bag – Fishing Backpack with Rod Holder – Tackle Box Bag Fishing Gifts for Men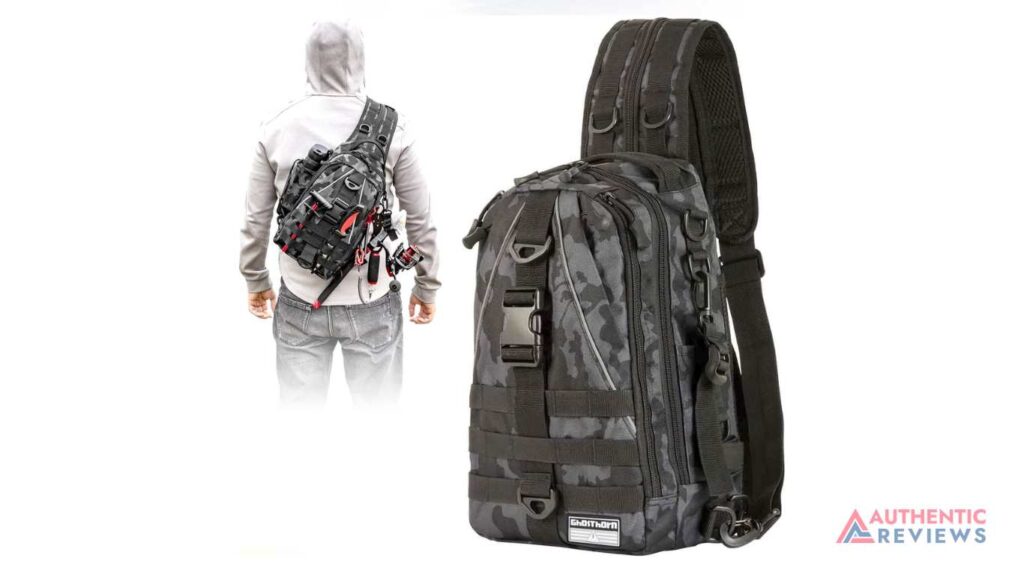 The Ghosthorn Fishing Tackle Backpack is a unique and multi-functional bag. It can be used in many ways, giving you more flexibility than ever before. This backpack can be adjusted as a chest bag, handbag, fishing tackle bag, or traveling bag.
You can easily change from a backpack to a sling shoulder bag by simply adjusting the padded straps attached to the backpack's inside. The Ghosthorn Fishing Tackle Backpack has an adjustable waist belt that allows you to wear it on your waist like a fanny pack if desired.
The Ghosthorn Backpack is a highly durable and water-resistant backpack designed to keep your fishing gear safe from the elements while you are out on the water. This bag has plenty of room for all your fishing equipment.
The front pockets feature compression straps that allow you to secure your rods and reels in place. Two side pockets provide additional storage space for smaller items like lures, tackle boxes, or bait buckets. Other features include an adjustable chest strap with an emergency whistle buckle and a detachable rain cover that can
| | |
| --- | --- |
| Dimension: | 14.5 x 8.2 x 5.1 Inches |
| Material: | Nylon fabric |
Pros
Solidly built and nice-looking

Multiple Compartments

Easy to carry
Cons
Small-sized bag

The side pocket is small for a water bottle
Piscifun Fishing Tackle Backpack
Piscifun Fishing Tackle Backpack with 4 Trays Large Waterproof Tackle Bag Storage with Protective Rain Cover and 4 Tackle Box(Khaki, Black, and Camouflage)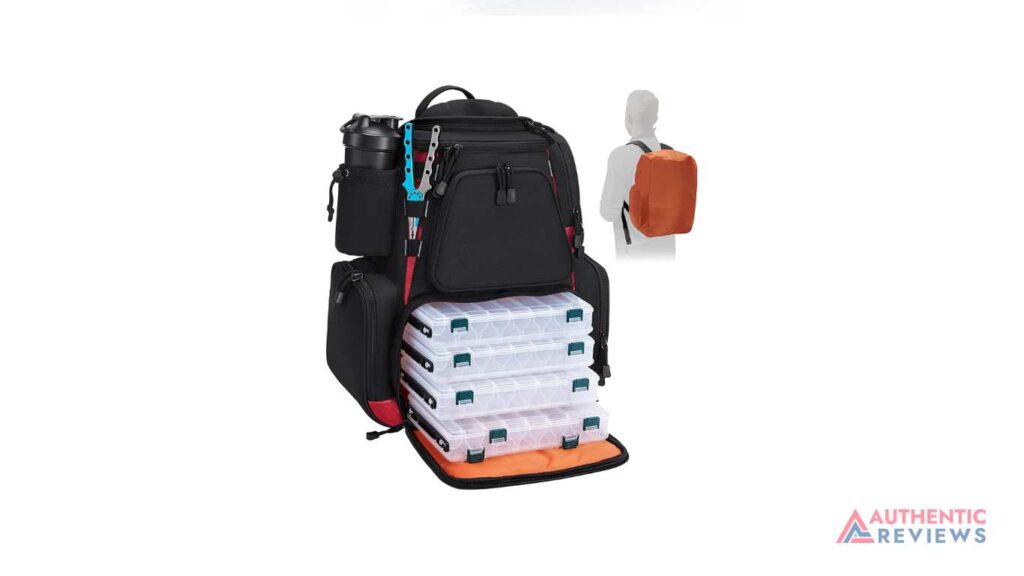 The Piscifun Fishing Tackle Backpack is a great companion for your fishing trip. It's made from superior-high-quality water-resistant 1200D high-density nylon fabrics, paired with durable KAM buckle and SBS zippers. The bag is made of durable and waterproof material, which you can use in any weather condition.
It is a high-quality backpack with 11 independent rooms. It is designed to hold all your fishing gear at ease. Moreover, it has separate compartments for storing small items such as hooks, sinkers, lures, etc. It also comes with two large pockets for keeping the tools like pliers and knives; 1 medium pocket for holding the net; 1 big pocket to put more stuff you need to carry around; and many more small pockets.
The Piscifun Fishing Tackle backpack is a great fishing bag that will help you carry all of your gear comfortably. It has a hard-molded sunglasses case on the top and two side pockets for water bottles.
The padded back with breathable material paired with adjustable and padded shoulder straps give you ease of carrying. This bag is also very durable as it has heavy-duty zippers to last longer than ordinary bags. The reflective strips keep you safe at night by reflecting light from cars or flashlights while walking in dark areas.
| | |
| --- | --- |
| Dimension: | 12.6 x 7.9 x 17.7 Inches |
| Material: | Nylon Fabric |
Pros
Plenty of storage space

Well stitched

Fair priced bag
Cons
Squished bottom

A bit heavy to carry
PLUSINNO Fishing Tackle Backpack
PLUSINNO Fishing Tackle Backpack Storage Bag Fishing Gear Bag, Water-Resistant Fishing Backpack with Rod Holder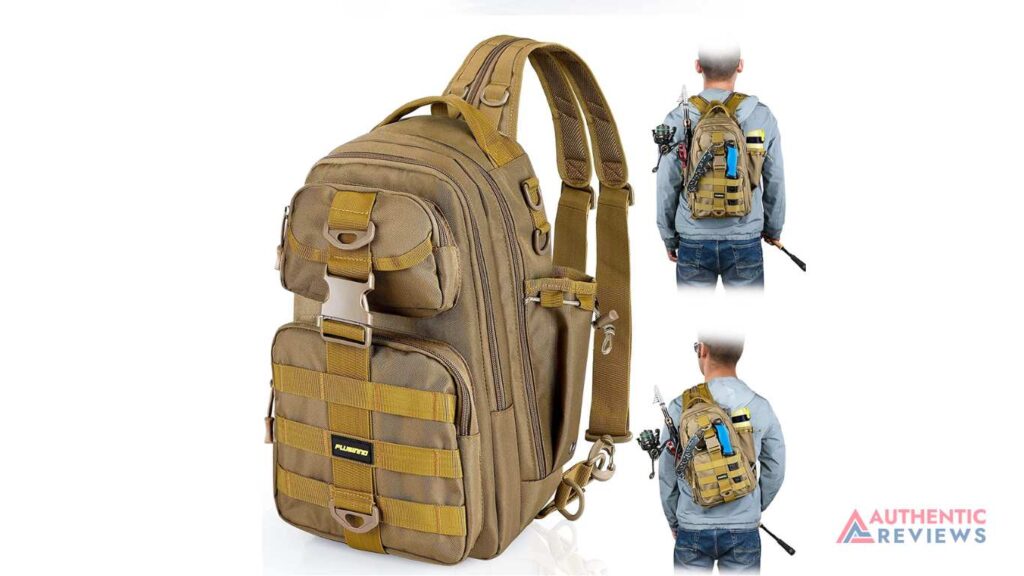 The PLUSINNO Fishing Tackle Backpack is a fishing backpack designed to make your fishing trip more comfortable and convenient. It's the perfect size for every kind of angler, whether you're just getting started or are an old pro.
The PLUSINNO Fishing Tackle Backpack is your ideal fishing buddy! It has a large main compartment to store all of your gear, including two smaller rooms inside for organizing. You can also use the three external pockets for quick access to your daily items, such as pliers, knives, screwdrivers, etc. The left pocket is designed for a water cup/bottle, and the right pocket is for tools.
The extra firm stitching on the bag helps ensure that this backpack will stand up to our customers' different uses and fishing styles across the world. The abrasion-resistant buckle and full-length double zippers are considerably more durable than other competitors' backpacks.
The backpack is designed with padded shoulder straps and a back support system that allows you to carry heavy loads comfortably without feeling any pressure on your shoulders or back. The bag also has an adjustable chest strap, allowing you to distribute the weight evenly for better comfort and fit.
| | |
| --- | --- |
| Dimension: | 16.5 x 11.8 x 5.5 Inches |
| Material: | Nylon fabric |
Pros
Well made and well stitched

Ease of carrying water bottles

Comfortable and organized
Cons
Not a 3700 box fits the bag
Piscifun Travel X  Fishing Storage Bag
Piscifun Fishing Tackle Bag – Fishing Gear Storage Backpack for Men and Women, Multifunctional Sling Fishing Bag with Rod Holder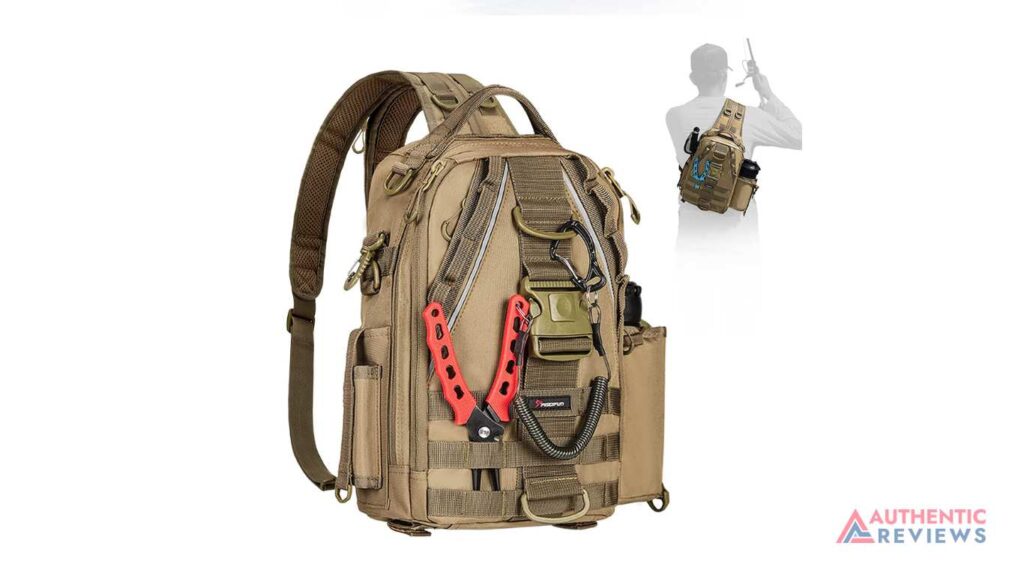 This bag is an excellent solution for traveling, fishing, and camping. It is made from high-quality nylon fabric, making it durable enough to last for many years without any problems.
The Piscifun Travel X bag is a great fishing storage bag for travel. It has a shoulder strap and back cushion to make it comfortable when carrying your gear. And it comes with an extra waist strap to help you comfortably take it around. You can have it on your back, which makes it very convenient for you to fish anywhere. Its unique design allows the bag to be placed in the most comfortable position during use.
It has plenty of storage space to store all your gear. This travel bag features two external front pockets and a back pocket that will keep your valuables safe while you're on the go. The bag's main compartment is fully padded to protect your valuable equipment from damage during transportation.
| | |
| --- | --- |
| Dimension: | 17.44 x 12.24 x 3.46 inches |
| Material: | Nylon Fabric |
Pros
Durable and comfortable

It will strap your fishing chair

Lightweight bag
Cons
Design is not fashioned

Side access to the compartment
Plano E-Series 3600 Tackle Backpack

Plano E-Series 3600 Tackle Backpack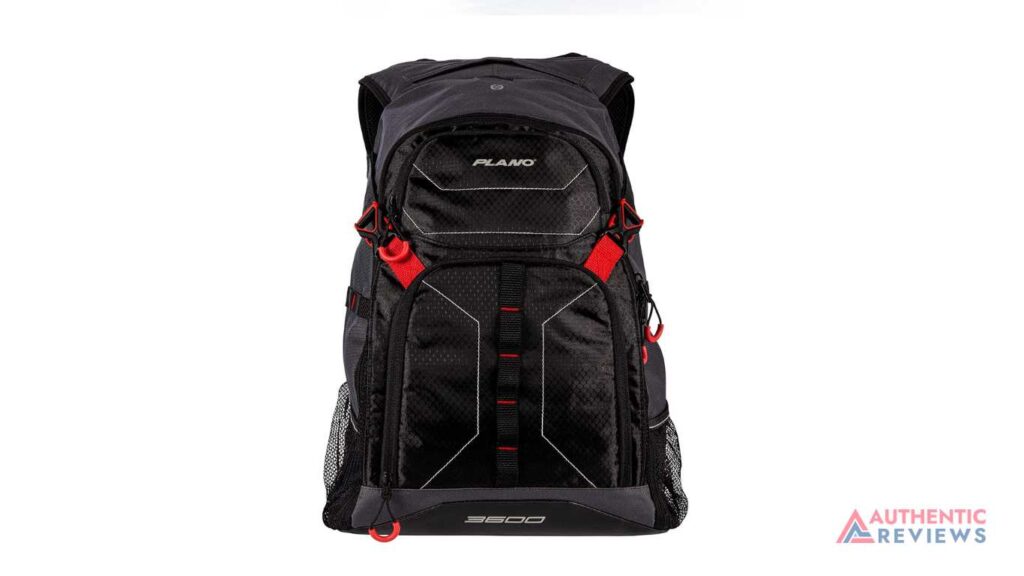 The Plano E-Series 3600 Tackle Backpack is a great way to transport your gear. This backpack is made of durable material that can withstand the elements while keeping your belongings dry. It is also very lightweight, so you can easily carry it with you. This bag is ideal for boating, kayaking, or any other water sport to store wet items in the boat or onshore.
The Plano 3600 is a bright, water-resistant tackle backpack that features an adjustable padded shoulder strap and a top carry handle. This bag features padded shoulder straps and a back cushion for comfort, and air mesh straps to keep you cool.
It has multiple storage compartments for easy organization of your gear. The interior/exterior mesh pockets provide storage for personal items. The soft felt pocket holds sunglasses or small valuables, and there are two accessory pockets to store smaller items.
This tackle backpack has an exterior side handle, and it can be carried by either top or side handles. The pack also includes two side pouches for additional storage capacity.
| | |
| --- | --- |
| Dimension: | 12.6 x 17. 7 x 7. 1 Inch |
| Weight: | N/A |
Pros
Comfortable and lightweight

Excellent designed and quality stitched
Cons
The zipper pull is fragile

High priced
What To Consider While Buying A Fishing Backpack
Comfort
While choosing a fishing backpack, make sure it is comfortable and fits your back. Do not choose one that is too small or too large. Neither should you choose one that causes pain in any of your body parts while carrying it around.
The bag you have chosen must have a handle on the top that enables you to carry it around with ease.
The shoulder straps should be in a comfortable and non-slip position to avoid any accidental movement. Further, check for additional padding or cushioning near your shoulders. It will prevent unnecessary pain if you are carrying a lot of things inside the bag.
Additional features
Some backpacks come with extra features like waterproof material, changeable external pockets, etc. which are always welcome additions to have when buying a fishing backpack.
What fits best?
If possible, try out different types of bags before finalizing one for yourself. This way, you'll know what feels right on your back and body.
Not all bags are the same
Many bag manufacturers claim to make the best fishing backpack, but in reality, they don't. You must look for a bag that has been newly manufactured with new, improved features so that you can have the best experience while using it. As much as possible, do not try to save money by buying a used product because there is no guarantee of the condition it will be in when you start using it.
Look out for these things
Does the bag come with an adjustable waist belt to keep your gear safe?
Is the bottom of the backpack reinforced with extra material?
Are there places available to store jackets or outerwear inside the backpack?
How much does the bag weigh?
Does the material used on the outside of the backpack protect it against water?
Are there inside pockets where you can store your cell phone, keys, etc.?
Durability & Warranty
The fabric used to make it should be tough enough to resist harsh weather. You certainly wouldn't want a fishing backpack that starts tearing up in a couple of months or so. Further, check if the manufacturer provides any guarantee (limited/lifelong) for your extra peace of mind and assurance.
Color & style
If you buy one for outdoor use, choose a bright color like yellow or orange or some shade visible from a distance, significantly when you have dropped your bag somewhere while fishing or hiking. This way, it will be easy to spot your bag when you are in a hurry to rush home, and there's no chance of you forgetting it somewhere.
CONCLUSION
The buying guide for fishing backpacks is meant to help you decide what type of backpack will best suit your needs.
We hope this article has helped provide some insight into the essential features of a good fishing backpack and how you can use them to make your next purchase decision easier.
If you've found our content helpful, please share it with friends and family who love the outdoors as much as we do!
A good fishing backpack should be big enough for all your gear, easy to carry while wearing it, waterproof so that nothing gets damaged if it rains or if you get splashed by waves, and able to fit over other clothes like a life jacket or waders. You also want something stylish so that people don't think of fishermen as "dudes" who are just sitting around drinking beer all day.
Frequently Asked Questions
What do you carry in a fishing backpack?
The first thing you will carry in a fishing backpack is the right gear, so make sure that your pack has a rod, reel, fly, line and hooks. You also want to bring along some lures because they are always helpful when trying to catch fish.
Can you fish while backpacking?

The short answer is yes. Fishing requires hooks, lines and bait that can either be purchased at your destination or brought from home.  

 If you're concerned about the weight of bringing fishing gear on your trip, there are many lightweight options available to choose from that will still produce quality catches.
What should I bring fishing?

There are a few things that you should always have with you when fishing. Some of these items are basic, like sunscreen, sunglasses and your favorite hat.

 Other items to consider carrying in your fishing backpack include:    • Fishing license • First Aid Kit • Fillet Knife • Hooks & Lures (variety) • Pliers or Fingersnaps for removing hooks from fish mouths and soft mouths, respectively • Fish Grips/Hooks – For handling big fish without getting too greasy. 

The best part is they don't get lost.  • Extra line – It's inevitable that at some point during the day, you'll break off a lure or lose a hook while casting. It can be frustrating, so it's best to