Best Pellet Grills Under $1000 – From Low-and-Slow to Sear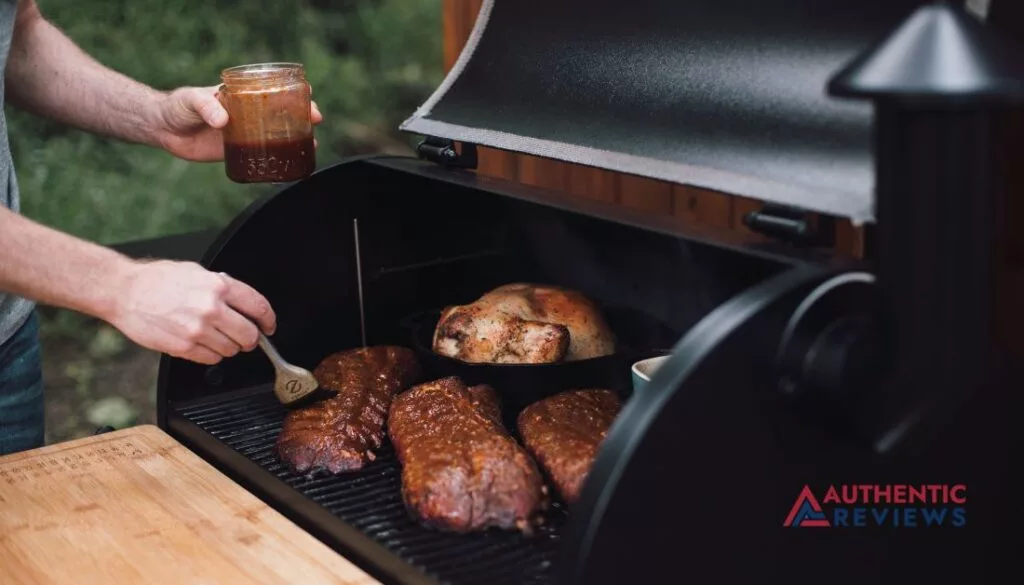 Pellet grills are versatile, and high-tech grills are great for more than just burgers and brats. They can handle any type of meat, fish, or veggies you throw at them while still producing delicious results. If you're looking to get started on your cooking adventure but don't want to spend a ton of money. Check out the list of best pellet grills under $1000.
Pellets burn hotter than traditional charcoal or gas, giving the user more control over the cooking process. It also produces less smoke which means that every bite is full of flavor without being covered in thick smokey residue like some other cooking methods can create.
Pellet grills are perfect for individuals who love spending time outdoors and want an easy-to-use appliance enough to cook all kinds of food items. There are many great pellet grills out there that will help you make delicious meals for your family without breaking the bank.
This article will discuss the best pellet grills under 1000 dollars, how the best pellet grills work and offer recommendations based on your needs.
When you buy through links on our site, we may earn a small affiliate commission at no additional cost to you.
Traeger Grills Pro Series 575 Wood Pellet Grill
Traeger Grills Pro Series 575 Wood Pellet Grill and Smoker with Wifi, App-Enabled, Bronze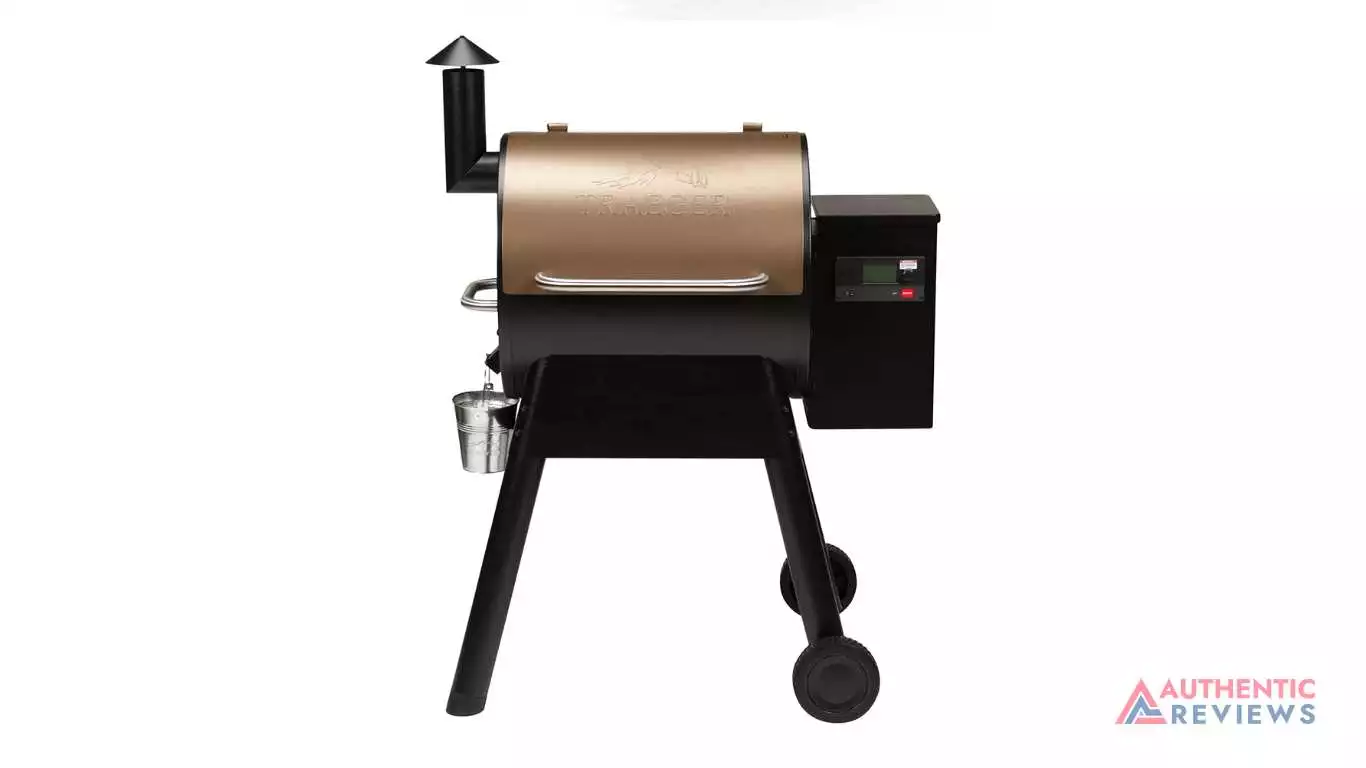 Specifications
| | |
| --- | --- |
| Brand | Traeger |
| Color | Bronze |
| Fuel Type | Wood Pellet |
The Pro 575 is one of the most advanced and best wood pellet grills on the market. The digital control gives you complete control over your cooking temperature and allows for precise temperature adjustments and monitoring of your meat or fish.
Traeger Grills Pro Series 575 Wood Pellet Grill is the highest-rated pellet grill for your backyard. It has a WiFi-enabled control panel that allows you to monitor and control cooking remotely using your smartphone or tablet. The grill features porcelain-enamelled grates for easy cleanup and an advanced ash cleanout system.
The grill uses Alexa technology, allowing you to control it with your voice. You can use this feature to set timers and temperature controls and ask for cooking instructions. With 6-in-1 versatility, this grill can be used as a smoker, roast or bake oven, griddle, and of course, grill.
The Traeger Pro Series 575 is the ultimate pellet grill for your home. The grill also has an upgraded D2 drivetrain with a fully sealed ball-bearing system to ensure smooth performance, even in bad weather conditions.
Pros
It's easy to use and maintain.
No more fussing with knobs or dials.
Cook outside in any weather
Cook with precision and control 
Cons
The wifi is to use for only short range
Z Grills ZPG-7002E 2020 Upgrade Wood Pellet Grill
Z GRILLS Wood Pellet Smoker Grill, 8 in 1 BBQ Grill for Outdoor Cooking, Auto Temperature Control, 697 sq in Cooking Area, 7002E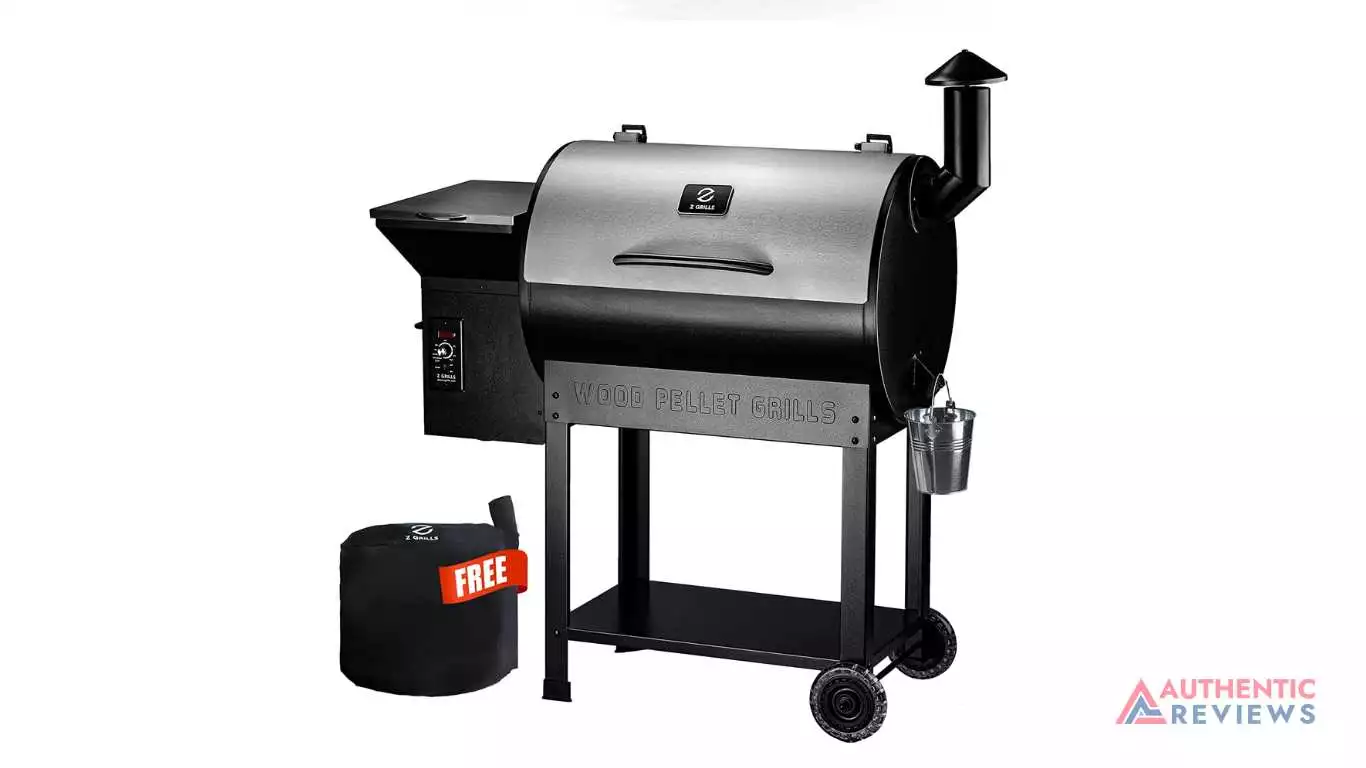 Specifications
| | |
| --- | --- |
| Brand | Z GRILLS |
| Color | Silver |
| Fuel Type | Electric, Liquefied Petroleum Gas |
The Z Grills ZPG-7002E 2020 is a high-performance grill that can be used for smoking and grilling. It has a modern design with wood-smoked flavors cooked into your food. This grill has an enormous cooking area of 700 sq inches. The large cooking space allows you to prepare the food for your entire family at once.
The Z Grills 2020 upgrade wood pellet grill features an automatic temperature control that maintains a consistent temperature within 10 degrees of your desired setting. The adjustable temperature control provides precise temperature control from 180° to 450° F, so you can cook your favorite foods just the way you like them.
The Z Grills 2020 Upgrade Wood Pellet Grill is the most advanced wood pellet grill on the market. This extra-large pellet smoker comes with a 20 lbs large-capacity hopper and an upgraded auger that allows you to cook more pellets at once and provides better airflow, which creates better flavor and less ash buildup.
The Z Grills 2020 Upgrade Wood Pellet Grill is designed to withstand the toughest conditions. The stainless steel body of this highest-rated pellet smoker makes it highly resistant to corrosion and rust, which means that you can use it in any weather condition without worrying about its durability.
Pros
This grill is built to last.
Less ash buildup 
The digital control panel is easy to use and read.
The design is sleek and modern.
Cons
The weight of the grill is a bit more to carry it
ASMOKE AS350 Portable Wood Pellet Grill
ASMOKE AS350 Portable Wood Pellet Grill & Smoker, Superheated Steam Technology, 8-In-1 Cooking Versatility, 256 Sq in Navy Blue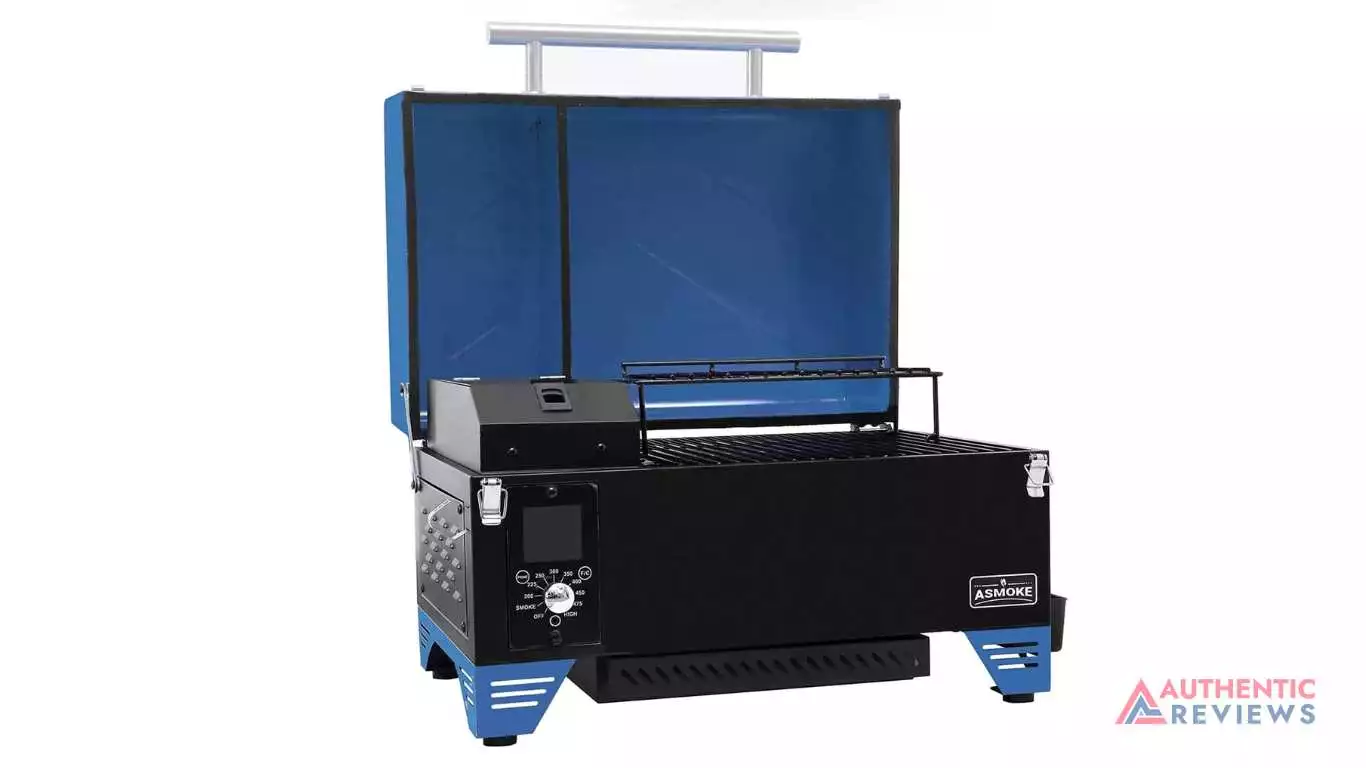 Specifications
| | |
| --- | --- |
| Brand | ASMOKE |
| Color | Navy Blue |
| Fuel Type | Wood Pellet |
The ASMOKE AS350 is a portable wood pellet grill used for grilling, baking, and smoking. The smoker features an ASCA System, which makes it possible to adjust the heat intensity. This system also prevents excessive smoke from being produced when the temperature is low.
Asmoke AS350 Portable Wood Pellet Grill is the best wood pellet grill for you. It comes with an advanced micro-particles technology that allows for more even heat distribution, resulting in better grilling results.
The grill also uses superheated steam technology that produces moist and juicy meat every time you cook with it.
The ASMOKE AS350 wood pellet grill can be used for smoking, grilling, roasting, and baking. The grill has an 8-in-1 versatility which allows you to cook anything from fish to steak, ribs, and vegetables. This grill features 40 lbs of natural wood pellets, which can ignite and produce a smokeless flame.
The ASMOKE AS350 is a portable wood pellet grill used for camping, tailgating, and even backyard grilling. It is the perfect grill for your entertaining outdoor needs. The portable design allows you to take it anywhere, so be sure to bring it to your next tailgate party or picnic.
Pros
Grill in any weather.
Easily start a smokeless flame. 
The grill is compact and portable.
Easy to use and clean
Cons
The temperature fluctuates in the Pellet
Davy Crockett Trek Pellet Grill
Trek Pellet Grill Tailgating Package Includes Cover-Collapsible Rack-BBQ Lights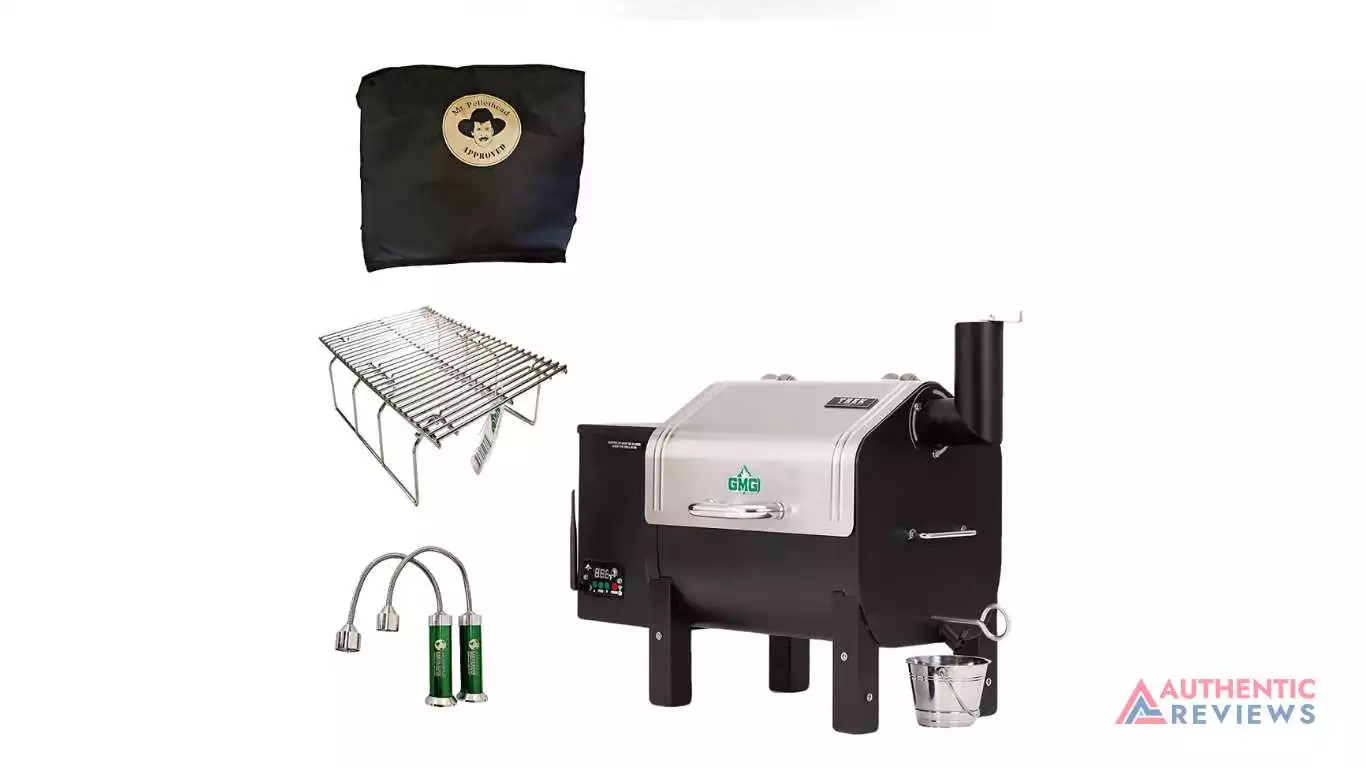 Specifications
| | |
| --- | --- |
| Brand | Pellethead |
| Color | Black |
| Material | Stainless Steel |
The Davy Crockett Pellet Grill is the ultimate grill for your outdoor cooking needs. With its patented "Sense-Mate" technology, the Davy Crockett allows you to grill with confidence and precision. The "Sense-Mate" system ensures that you will never again over or undercook a meal because it senses and monitors the temperature inside of the grill.
The Davy Crockett Pellet Grill is a compact grill with a big personality. The grill features a digital controller and a 12v DC power source, which allows you to take the grill anywhere you want. It has a 9 lb hopper capacity that will allow you to make several meals at once.
The Davy Crockett Pellet Grill is a compact grill for your tailgating or camping needs. It has a cooking area of 219 sq inches and an adjustable temperature range of 150 to 550 degrees Fahrenheit which means you can sear your favourite foods to perfection without moving them around on the grill.
The Stainless Steel baffles evenly distribute heat and smoke across the entire cooking surface, providing a superior smoking experience for your favourite meats. The rack has a collapsible design that makes it easy to store away when not in use. This rack will make grilling even more enjoyable.
Pros
No more burnt edges. 
Easier to clean up after cooking.
Easy to assemble with no tools required. 
Perfect size for camping or tailgating.
Cons
It takes to clean it more often to avoid soot. 
Broil King 493051 Crown 400 Pellet Grill
Broil King 493051 Crown Pellet 400 Pellet Grill, Black
Specifications
| | |
| --- | --- |
| Brand | Broil King |
| Color | Black |
| Fuel Type | Wood Pellet |
Broil King's Crown 400 Series Pellet Grill is the ultimate in grilling technology. With a digital controller, you can sear the perfect steak and smoke low and slow all from one grill. With this much heat available from one unit, you can easily use it to smoke at 225°F or sear at 600°F.
The Crown 400 is one of the best American made pellet smokers and features a push-button start ignition system that allows you to quickly ignite the burners with just the touch of a button. It features a built-in Wifi and Bluetooth-enabled control panel, which allows you to connect to your home network or even your smartphone for easy access.
With two temperature probes that allow you to control the heat inside the grill, this product will be able to meet your needs when it comes to grilling meat. Its integrated timer allows you to preheat the grill while you prepare your food.
The Crown 400 is the perfect grill for any backyard. With its massive cooking area, you have plenty of room to cook for your family and friends. The unique design also features a hidden grease tray that keeps your deck clean when grilling. The large hopper holds up to 18 lbs. of pellets, so you can cook all day without having to worry about refilling or running out of fuel.
Pros
Huge cooking area
No more burnt or undercooked meat.
Push-button start ignition system.
Control cooking temperatures with ease. 
Cons
The temperature reading is not accurate 
Camp Chef 24 WIFI SmokePro SG Pellet Grill & Smoker
Camp Chef 24 in. WIFI SmokePro SG Pellet Grill & Smoker – WIFI & Bluetooth Connectivity (Black)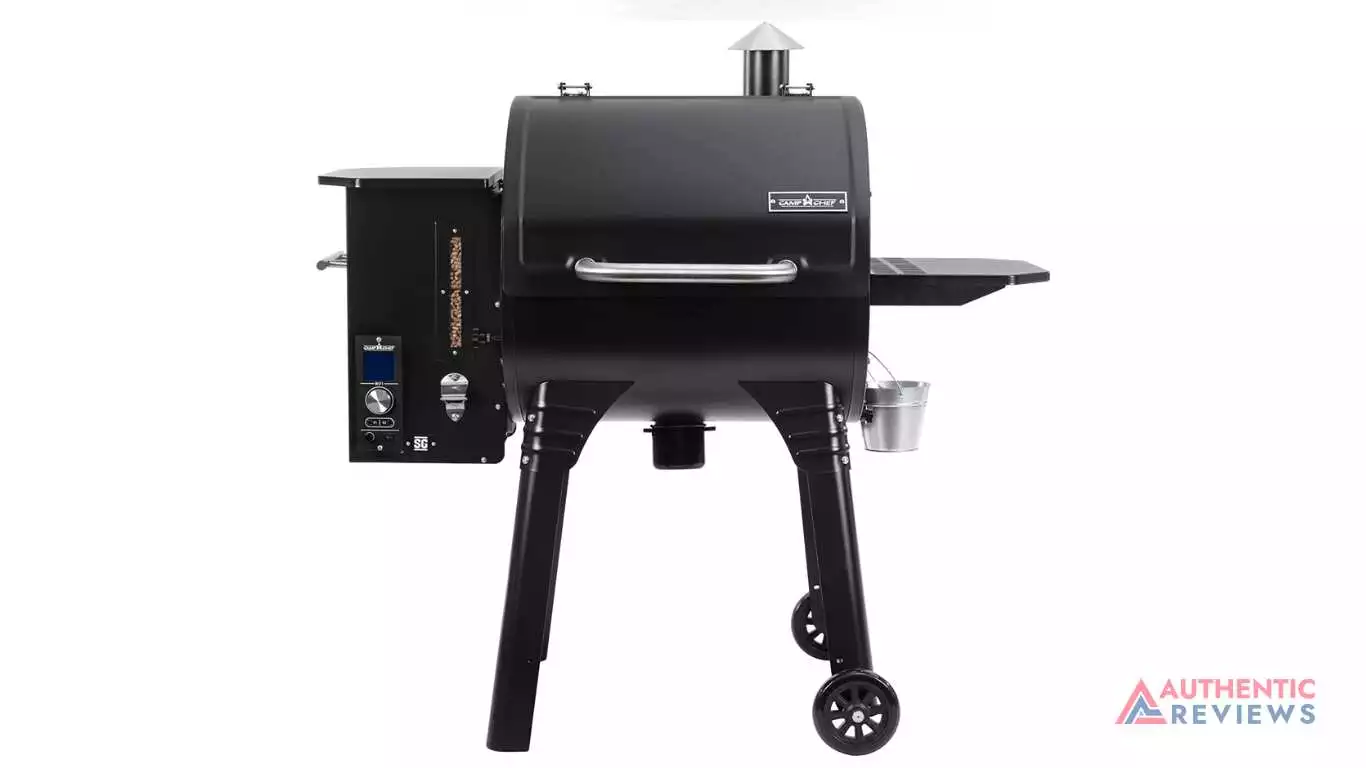 Specifications
| | |
| --- | --- |
| Brand | Camp Chef |
| Power Source | Wood |
| Color | Black |
The SmokePro DLX Pellet Grill is a smart grill that's perfect for the backyard BBQ enthusiast. It features an automatic pellet auger so you can have your meat smoked and ready to eat in no time at all.
Camp Chef SmokePro DLX Pellet Grill features a large-capacity pellet hopper to make sure you have enough pellets for your grilling needs. The patented Ash Cleanout System collects and removes ash from the grill so you can concentrate on what's important: spending time with your family, and friends, or just relaxing.
Camp Chef SmokePro DLX Pellet Grill is a heavy-duty grill that can hold up to many foods. With a total cooking area of 573 sq. in. It is made out of high-quality materials to ensure that you have many years of grilling fun.
This grill is designed for serious outdoor cooking enthusiasts. It has a large hopper capacity of 18 lbs. of pellets, which means you won't have to refill the hopper as often.
Pros
Cook food evenly and quickly.
Cook more food at once.
No more ash to clean up. 
This is the best option if you want a cheap pellet smoker.
Cons
The grill is not made of sturdy materials
What to consider while buying the Best pellet grill under $1000
Buying the best pellet grill under 1000 dollars is very exciting and awesome. It takes quite an amount to get this awesome cooking machine, but you need to know that it will be one of your best investments ever made.
The best pellet smoker under 1000 dollars has the capability of providing you with many benefits that will create a great impact in your life. You need to consider some factors when buying the best pellet smokers for under 1000 dollars. Here are some top considerations before making your decision on what brand to buy. This is very important information that you need to look for when buying a pellet grill.
Ease of use
The automatic grill is very easy to use; all you need is to place the food in it and wait for some minutes before your food is done. This information should be considered when buying any pellet grill.
Design of the product
This factor can determine if you will love or hate your pellet grill. Some products have really good designs which make people love to use them. If the design is very attractive, you will find yourself using it more often and sometimes forgetting about its function.
Durability
This factor determines if your pellet grill is worth buying or not. You need to consider how durable a product is before you can make your decision. There are some beat pellet grills with great functions and designs, but they have poor durability, bringing about lots of inconveniences in your life. Durability is a very important factor to consider when buying anything.
Features of the product
This factor determines how efficient your pellet grill will be in doing its function. Some products have various functions that will enable them to cook faster, while others have a few functions that may not meet your expectations. You need to buy a product that has various functions to get more benefits from it.
Some of the great features of the pellet grill are listed below;
Filtration system -The pellets in your pellet grill will produce some good flavours for your food, but they may also cause bad odors. To prevent this, you need to buy a pellet grill that has an efficient filtration system. This will keep your room odor-free and clean.
Sear system – The sear systems are very important if you want to cook your food faster. Some of pellet grills have this function, while others do not. If you buy one with the sear function, it will enable you to get other benefits like cooking your food faster and easy cleanup after use.
Large cooking area – The pellet grills with a large cooking area are very convenient. You can easily cook for a crowd with this product.
Wi-Fi connection – Wi-Fi connectivity is one of the best technologies that have been invented to make our work easier and faster. A pellet grill with this feature enables you to connect it to Wi-Fi from your mobile device to check the temperature inside the grill so you can decide when to start cooking.
Safety systems – This includes automatic shutdown and pellet feeder malfunction, ensuring that your pellet grill is safe from any damage or misuse.
Controls of the product
The controls are very important when buying any kind of machine; they can make or break your decision to buy it. First, you need to check if the controls for the heat function are easy to use and understand. This will save you lots of time when cooking your food. Sometimes, the automatic grills may have complicated controls which makes people hate them.
Cooking speed
This is another important factor when buying an automatic grill. Some products are slow when cooking your food, but some are fast. If you want to save time when cooking your food, you need to buy a product that cooks faster than others do. Some products are even able to cook your food at a faster rate.
Price of the product
Sometimes, you need to consider your budget when buying an automatic grill. The brand and its features determine the price of a pellet grill. Some companies are known for producing the most expensive pellet grills, but this is not the case with all the brands. Some other brands produce relatively inexpensive products. So before you make your decision to buy a pellet grill, consider your budget and how much you can afford to spend on one. so check authentic reviews for different grills pellet grill 1000$ and Charcoal grill 200$
Frequently Asked Questions
Which pellet BBQ is the best?
When it comes to choosing the best pellet bbq grill, there are many options to consider. While they all operate on the same basic principle of utilizing wood pellets as fuel, each has different features and benefits for its users. 
what are the best pellet grills for your money?
Choosing the best pellet grille for your money can be tricky. With so many options available, it is difficult to know where to start. This blog post will cover everything you need to know about finding a great pellet grill that won't break the bank. 
Conclusion
The factors considered above are very important when buying a pellet grill. This article has provided you with all the information you need to know to make a smart decision when buying a pellet grill.
You can also ask around other people who have bought one before; this will help you save lots of time and choose the best pellet grill for the money. Remember that making the right decision to buy an automatic grill will be useful in the long run. Make your decision wisely, and you will not regret your choice.