What Type of Socks to Wear With White Sneakers?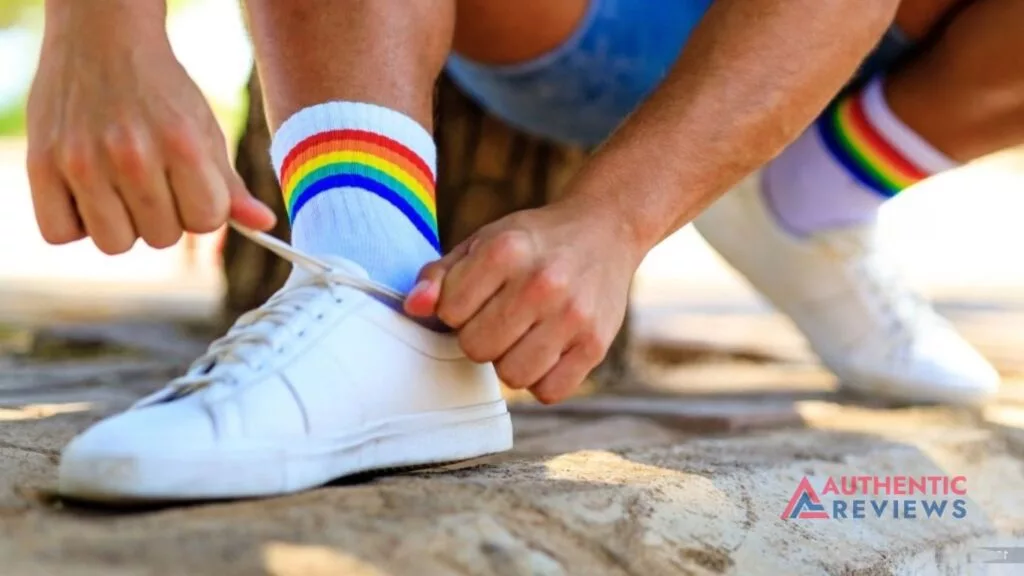 Is your wardrobe feeling lackluster and lacking personality? Ah, the common predicament of the casual office attire contender, no matter if you're a man or woman. A simple change to your ensemble can make all the difference in giving your outfit a little edge and pizzazz and ensuring that you're properly equipped for any occasion.
White sneakers are the latest trend, and when appropriately paired with the right socks, they will bring out the coolest and breeziest vibe on any street. Get ready to rock street style with amazing designs and colors of socks to wear with white sneakers.
It doesn't matter if you're stepping out for brunch with friends, travelling to faraway places, or walking around campus; there are endless possibilities when it comes to discovering that one unique pair of socks that bring life back into your style. Dare to explore patterned and colorful socks in order to revolutionize any ensemble you create.
Let's start with what color socks go with white shoes or sneakers.
Wearing White Sneakers: What Type Of Socks Go Best With Them?
Are you ready to stand out, breathe new life into your style, and express yourself with the perfect pair of socks for white sneakers? Here are some of the favourite and most trending options:
Pastel socks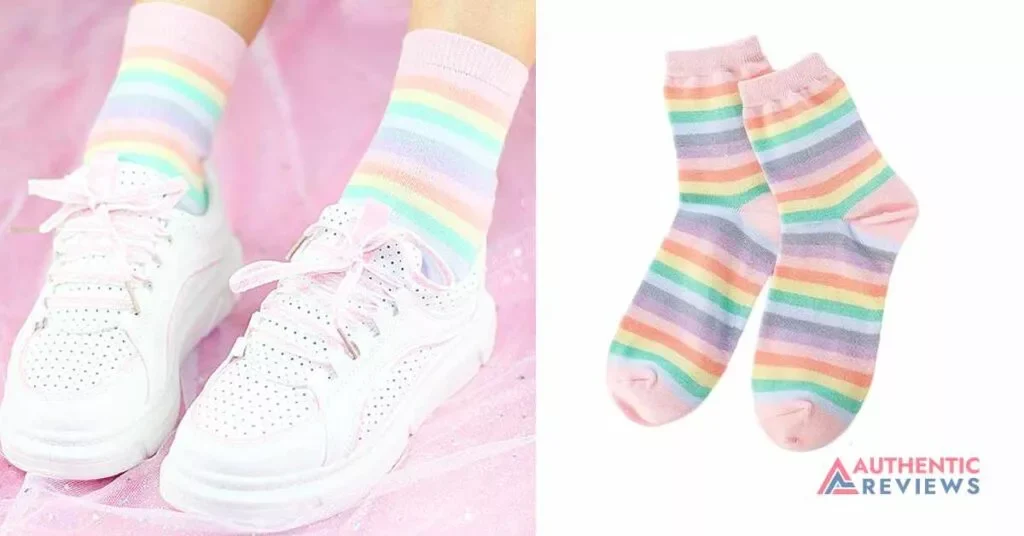 If you want to achieve the ultimate romantic and sweet look, then pastel socks are for you. Pastel socks are bright yet subtle at the same time, making them perfect for pairing up with white sneakers without being overbearing.
Pastel socks are usually soft and colorful, with hues ranging from light pink to minty green. They add a touch of femininity to any ensemble and can be paired with almost any type of clothing, from flowy sundresses to distressed denim.
Romantic-look socks are a perfect choice whether you're looking for a cute, girly vibe or simply want to add brightness to your ensemble. So why not try them out for yourself? You won't regret it.
Stripe socks
Are you scouring for a more sophisticated and professional look? Then stripes are the way to go. With their simple yet timeless horizontal stripes, stripe socks can instantly add that extra touch of class to your outfit.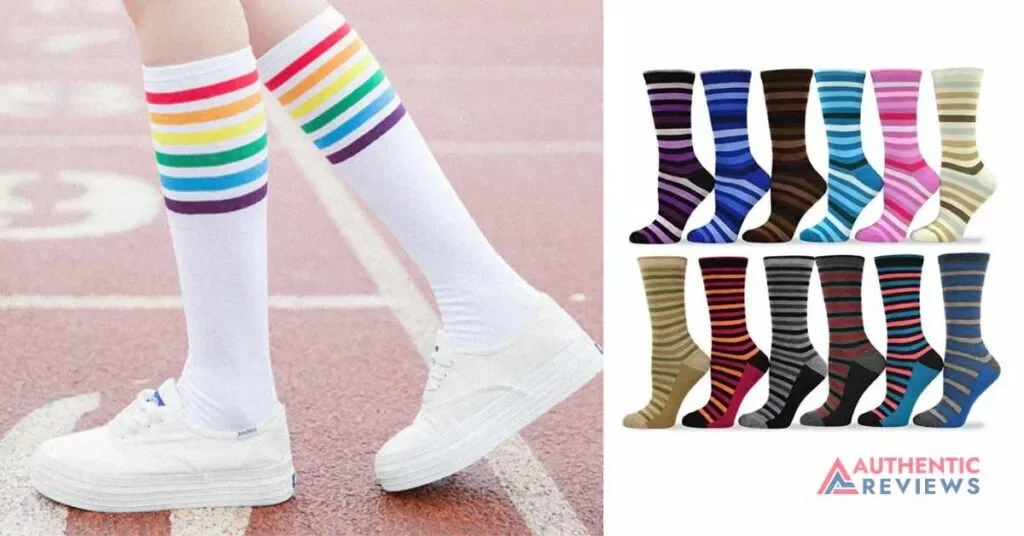 Striped socks come in various colors, so you can easily choose the ones that complement your particular style best. For a sleek and sophisticated look, try pairing a pair of bright white socks with white shoes.
Alternatively, you can go for bolder tones, such as blue or red, to add color to your ensemble. So what are you waiting for? Go ahead and give striped socks a try, and watch as your style transforms into something incredible.
Patterned socks
Ah, patterned socks – the bold and trendiest choice of all. From polka dots to colorful stripes, patterned socks are a fun way to add personality and quirkiness to your outfit.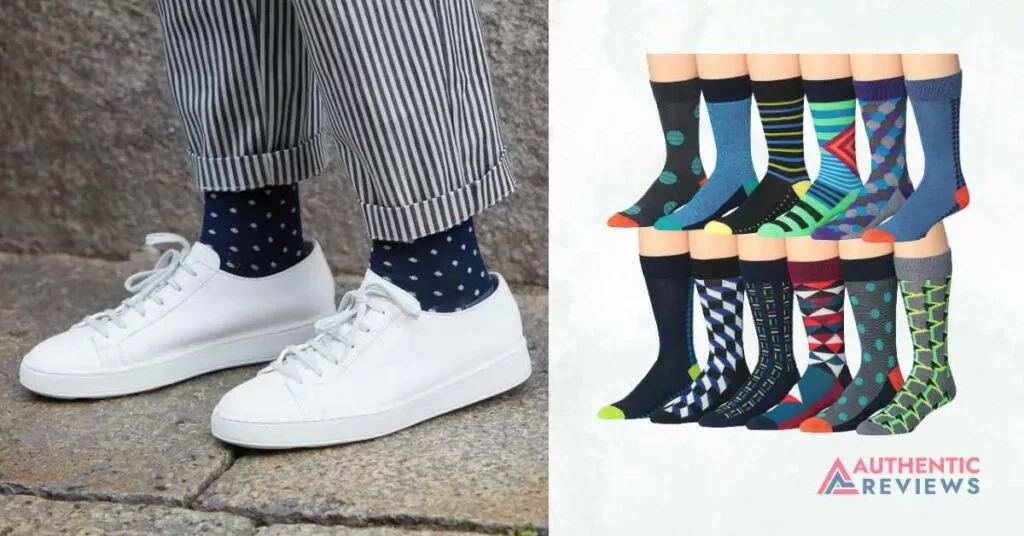 Patterned socks can come in various shapes, sizes, and colors, making them perfect for pairing up with any type of white sneakers. Whether you're into sunflowers, flowers, or hearts, there's a pair of patterned socks for every style.
If you want to add pop to your outfit, try patterned socks today. You won't regret it.  So go ahead and add that extra oomph to your style.
Animal-themed socks
Looking to embrace your wild side? Then you've stumbled upon the right option. Animal-themed socks are exactly what they sound like—socks with a fun and quirky animal print (think bees, tigers, giraffes, etc.). They are an excellent way to add some pizazz and personality to your style without going overboard.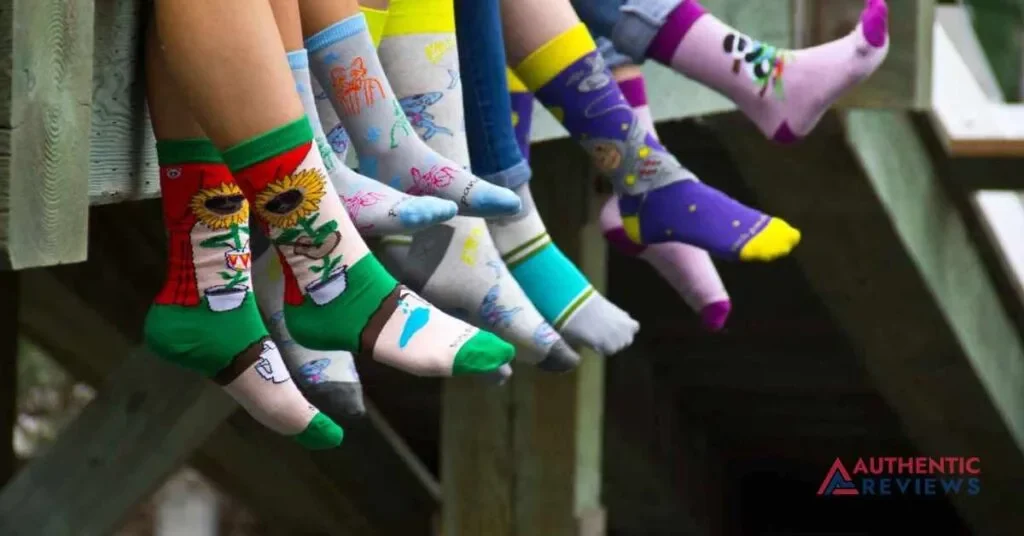 Animal-themed socks typically come in a wide variety of colors and prints, making them extremely easy to match with just about any type of outfit. So why not be the talk of the town by rocking an animal-themed pair of socks with white sneakers? You'll turn heads, for sure.
So, do you know the type and design of socks to wear with white sneakers?  You can opt for different styles, and each of these styles has its own unique benefits, from adding a touch of femininity to your look. To help make this decision less overwhelming, here are some factors that should be taken into consideration when selecting the best socks for white sneakers.
Choosing The Right Socks For White Sneakers: What Factors Should You Consider?
When it comes to white sneakers, there are various options for socks, from pastel to stripe and patterned, each with unique advantages. Some key factors to consider when choosing your perfect pair include:
Color
White sneakers can complement many colors and shades, so you'll want to opt for a sock color that complements your sneakers and the rest of your ensemble.
Style
Whether you're looking for a more classic or trendy look, there's a pair of socks to suit your style preferences. Think about what kind of look you're going for, and then opt for the right type of sock accordingly.
Material
From cotton to wool to synthetic, the material of your socks can have a big impact on their look and feel. So if you're going for a specific aesthetic, be sure to consider which materials would work best.
Size
Not surprisingly, the size of your socks will play a major role in how they look and feel. When choosing the right pair of socks for your sneakers, be sure to consider their exact fit and make any necessary adjustments for the perfect fit.
Sweat Absorption Capability
Look for materials that can wick away sweat quickly and keep your feet cool and dry.
Cushioning
The footbed should provide adequate cushioning while walking or running in your sneakers to avoid soreness and fatigue.
Breathability
Natural fibers such as bamboo or cotton-poly blends are ideal as they allow air to circulate.
Durability
Good-quality socks should last longer before wearing out, so choose brands known for their durability and toughness.
Price
Consider how much you're willing to pay for quality socks that will last a long time without losing shape or color over time.
Occasion
The event you're going to is also an important factor to consider. You may be better off with a more traditional, classic pair of socks for formal or business-casual events. On the other hand, for a more casual occasion, opt for a trendier, patterned, or colorful design.
With the components to consider when searching for the ideal pair of shoes now firmly in mind, it's time to shift our attention toward ways you can add a touch of flair and personality to your overall look.
How Do You Style Your Look With The Perfect Socks And White Sneakers?
Do you want to add a pop of color to your outfit or show off a fun print? Whether you're going for a classic or trendy style, there are plenty of ways to style your socks with white sneakers. Here are some tips to follow:
Accessories
Adding accessories such as jewelry, scarves, and handbags can help elevate your look. Consider a statement necklace or bold cuff bracelet paired with patterned socks for a chic, on-trend ensemble.
Choose the right outfit
Picking the right outfit for your socks and white sneakers is key. T-shirt dresses, jeans, and tank tops are great options for pairing with your footwear. Experiment with different combinations until you find an outfit that works best.
Play up your shoes
When it comes to styling your socks and sneakers, don't forget about the white sneakers themselves. Consider adding a pop of color to your shoelaces or wearing different socks to complement your sneakers.
So, now you understand how to style your look with the perfect pair of socks and shoes.  It's time to take action and start experimenting with different outfits and accessories to find the perfect pairing for you. Remember to keep your personal style preferences in mind and have fun with them. Happy sock shopping!
Frequently Asked Questions
Can I wear black socks with white sneakers?
Yes, you can definitely wear black socks with white sneakers. Black is a classic and neutral color that will work well with most clothing and shoe styles. However, you may also want to experiment with other colors and patterns to find the best look for your unique style. So, black is a best socks with sneakers
What is the rule about wearing white shoes?
Fashion experts insist you should only wear white shoes after Labor Day and before Memorial Day to avoid confusion about what season it is. However, this "rule" is largely considered outdated, as trends in fashion are constantly changing and evolving. Ultimately, the decision of whether or not to wear white shoes comes down to personal preference and style.
Are white sneakers in style in 2023?
It looks like white sneakers will be a major trend in 2023! Already this year, we've seen the classic all-white 'clean' look take off, and it doesn't seem to be slowing down anytime soon. Whether you're looking for something more sporty and casual or something dressier with some interesting details, there's no doubt that white sneakers will be on everyone's feet this year.
Conclusion
White sneakers are always in style, no matter the season. However, finding the perfect pair of socks to complete the look can take time and effort. If you want to go bold with your look, choose fun and funky socks with prints and colors like stripes or polka dots.
You can also experiment with texture, contrasting patterned socks with plain white ones for an interesting twist. Ultimately, there's no right or wrong way to know what socks to wear with white shoes; it's all down to personal preference, so pick the