What Socks To Wear With Vans? The Ultimate Guide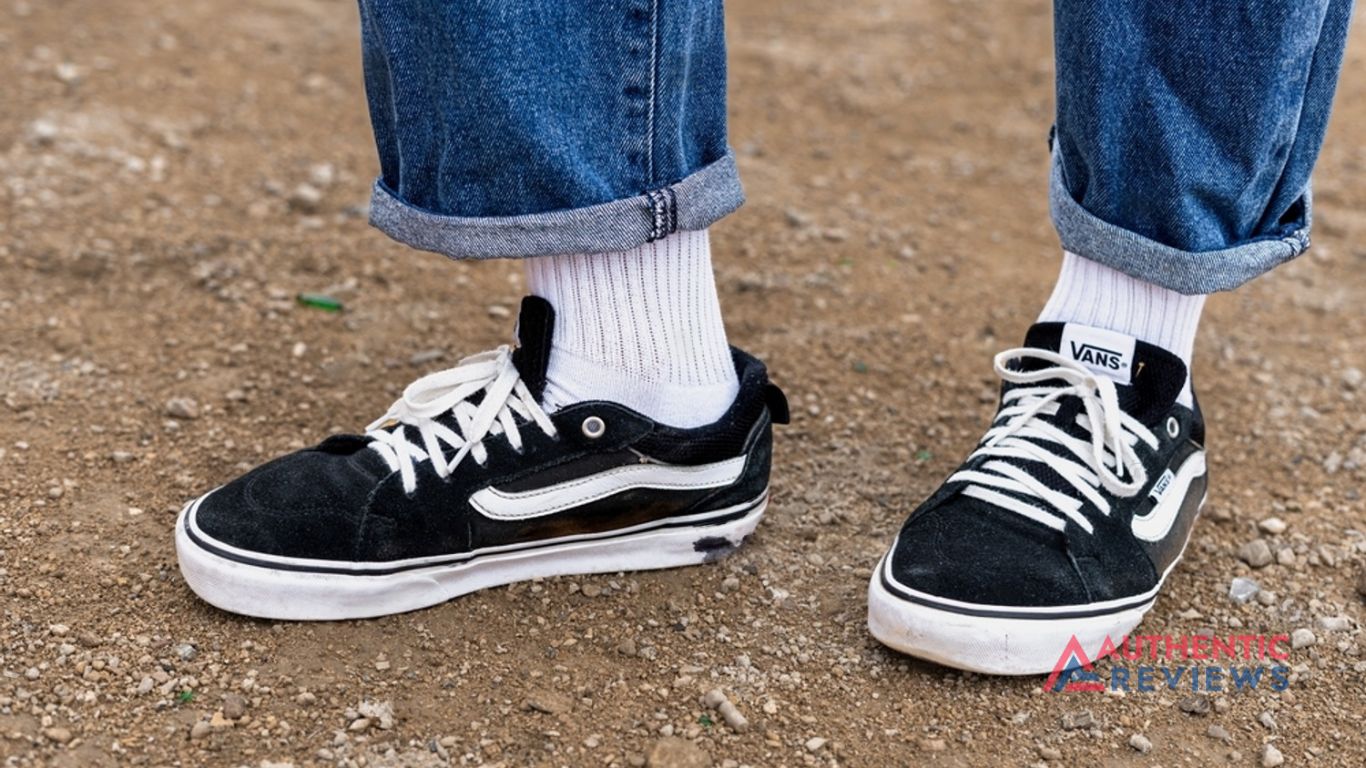 With the onset of summer just around the corner, the age-old battle over what socks to wear with Vans reignites. Some might think the answer is simple; a Vans sneaker looks good with just about any sock. But there's more than meets the eye for those interested in fashion and trends.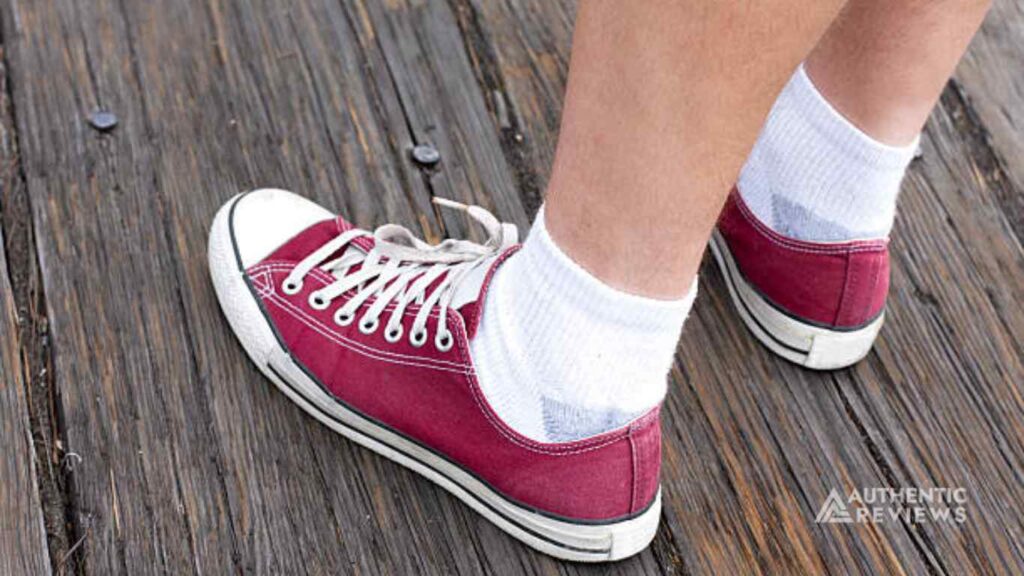 Luckily, it's not an enigma that cannot be deciphered – different socks can give different vibes and create endless possibilities when paired with a classic Vans silhouette. So let us launch into an exploration of understanding what type of sock truly pairs best with these iconic shoes.
Let us find out together if we can uncover some hidden gems when it comes to putting together a great streetwear look.
Wearing Van Shoes: What Type Of Socks Should You Wear?
With the van, you can wear any type of socks, from simple socks to bold patterns. However, looking for some inspiration? Here are just a few of the many options available when it comes to van-friendly socks:
Striped socks
Striped socks are a fun and classic choice for vans. With a range of colors, from bright red to cool aqua, these socks can add some amusement and personality to your outfit. Striped are typically made from stretchy material, such as cotton or spandex, which makes them comfortable and the best socks for vans.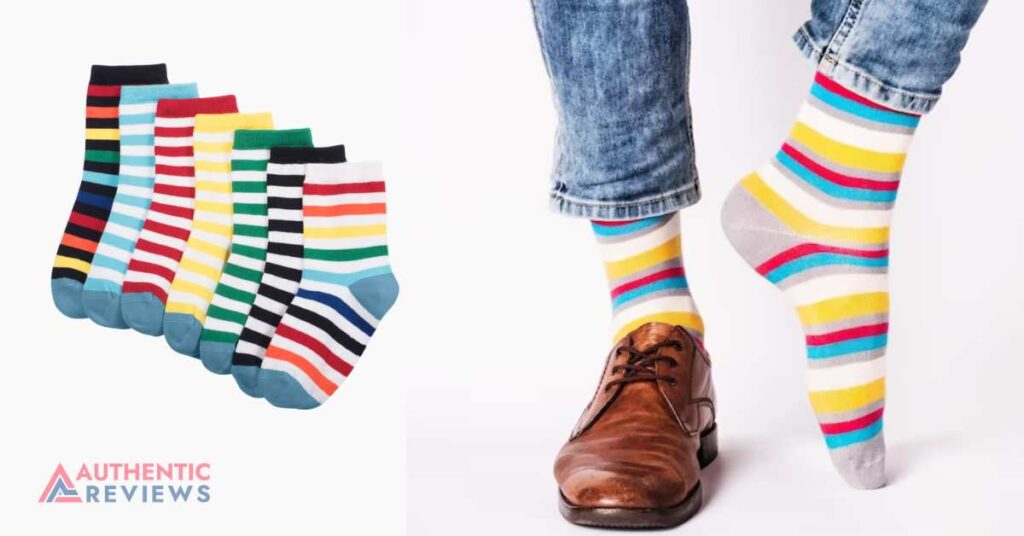 Funky socks
Funky socks are a great choice for vans if you want to make a statement. Socks of this style often feature eye-catching patterns, like animal prints or vivid geometric shapes.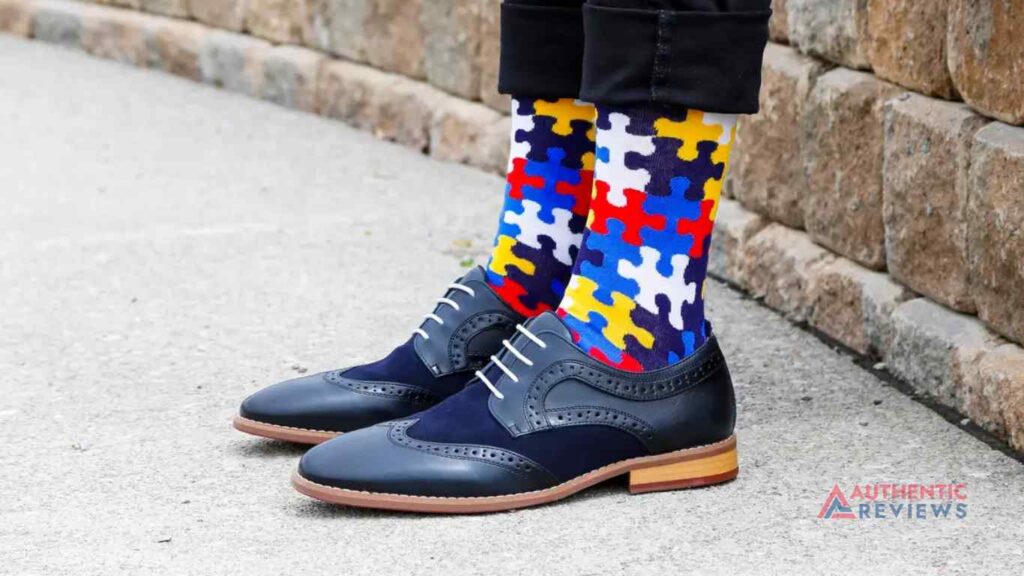 Captivating patterns and hues of these socks make any outfit more interesting and help you be more noticeable. Not only are funky socks made of high-quality fabrics like cotton or wool, but they're also stretchy and soft so that you can wear them confidently without feeling restricted or uncomfortable.
Plain socks
For a more minimalist look, plain socks are always a safe choice. Made from durable yet comfortable materials like cotton or wool, these basic socks pair perfectly with vans and are available in unlimited color socks to suit your style.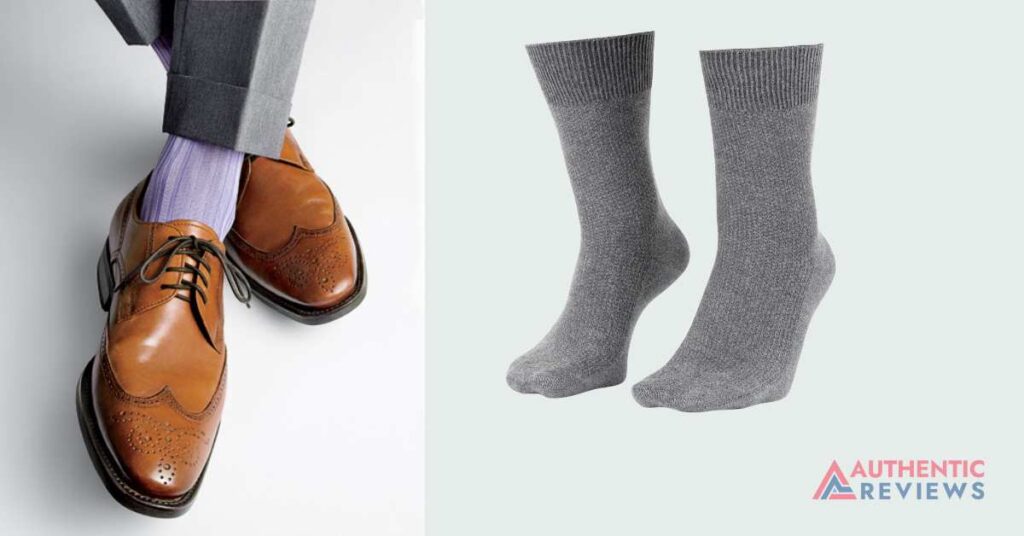 High socks
As the name suggests, high socks are a great choice for vans if you want to make your ankles the focal point of your look. Made from high-quality fabrics, these knee-high socks fit comfortably around your calf and ankle and can be worn with dressy and casual looks.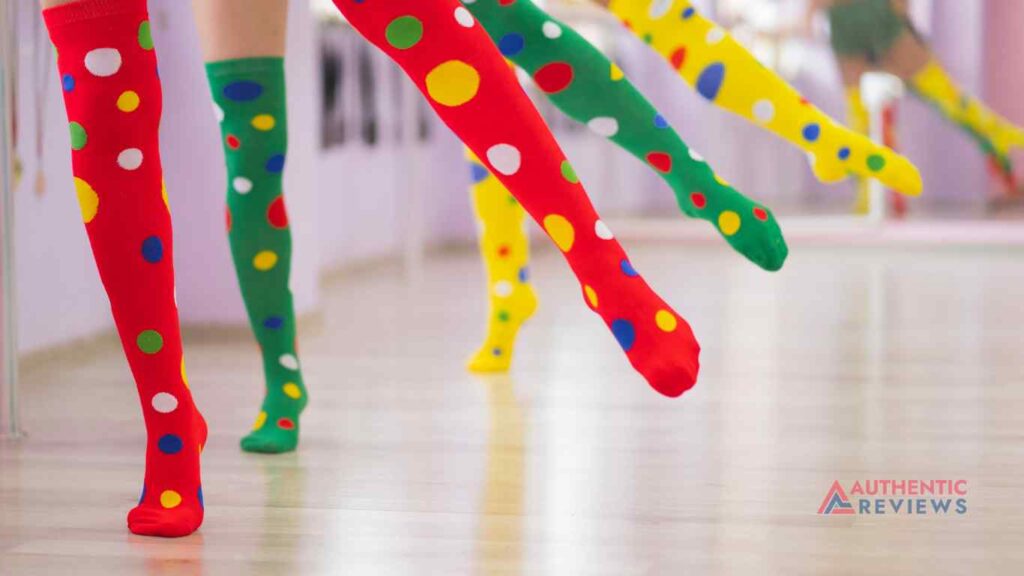 Slip on socks
If you prefer a no-show look, slip-on socks are a perfect choice. The gentle grip of these socks helps them stay securely in place, making them ideal for vans. Slip-on socks come in various colors, patterns, and materials to suit your style.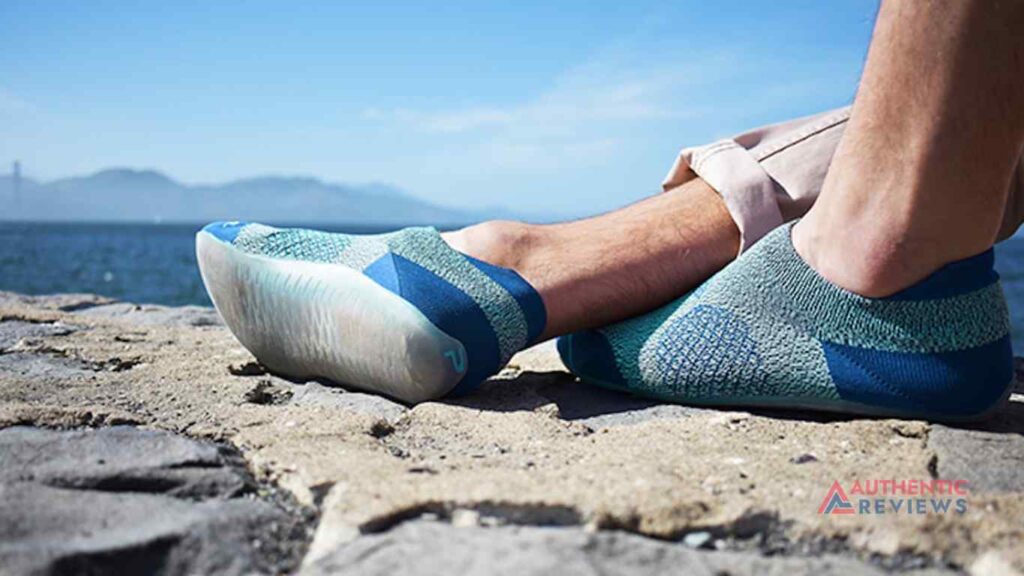 You know the type of socks to choose for your vans – now it's time to know why socks are an essential part of any van outfit.
Why Should You Wear Socks With Vans?
Wearing socks with vans shoes has numerous benefits that are often overlooked. Here are just a few of the reasons why socks are an absolute must-have for any van look:
For one, it helps to protect your feet from blisters and soreness. The sock fabric acts as a barrier between your foot and the shoe, reducing friction and helping to prevent those painful hot spots.
Socks help to absorb sweat, keeping your feet dry and comfortable.
In cold weather, they also add an extra layer of insulation and cushioning to keep you warm.
Socks help to keep your shoes clean by absorbing dirt and debris.
You make a statement with your socks, adding a fun touch to any van outfit.
So if you're ready to step up your sock game, grab some vans and choose a pair of socks that reflects your personality and style. Whether it's bold patterns and colors or a more understated look, there is something for everyone when it comes to pairing these.
You know the reasons to wear socks with your vans – now it's time to take the next step and find factors to consider when shopping for your next pair of vans-friendly socks.
Pairing Socks With A Van: What To Consider? 7 Factors To Keep In Mind:
When you're shopping the socks for vans shoes, there are several factors to keep in mind. These may include:
Material of the socks
When pairing the best socks to wear with vans, the socks' material is important to pay attention to. A few different materials are good for pairing with a van. Cotton is always a good choice because it's breathable and comfortable.
Wool is another perfect choice because it's durable and will last longer. You can also find socks made from synthetic materials like polyester or acrylic. These materials are usually cheaper and can be just as comfortable as natural fibers.
Size of the socks
The size of your vans-friendly socks is also something to consider. If you wear a tall sock, make sure that it's not too tight enough around your calf and ankle so that it doesn't cut off circulation or pinch. Likewise, if you're wearing slip-on socks and want them to stay securely in place, make sure that they are the right size for your feet.
Patterns or designs
When choosing a sock design, there's no limit to what you can find. Bold patterns and colors can be fun and playful, while more understated options like solid colors or simple stripes can have a clean and classic look. Discover your fashion sense and explore your options to find the perfect style for you.
Price and quality
With most socks, you get what you pay for. While you might be tempted to choose a cheap pair of socks based on price alone, remember that the quality of the fabric can make all the difference in comfort, fit, and durability.
Always aim for high-quality materials and look at reviews from other buyers to ensure that you're getting the best possible product for your money.
Comfort
No matter what material your socks are made from, they should be comfortable. Make sure that the fabric is not too tight or abrasive, and take into account any padding or cushioning on your socks for extra comfort and support.
Remember that your socks should be there to support you, not hinder you – so don't settle for anything less than comfort when choosing a pair to wear with your vans.
Pay attention to trends
Whether you prefer classic styles or more modern looks, it's always smart to keep your eye on current sock trends. That way, you can be sure you're always rocking the latest and greatest patterns, colors, and designs when pairing socks with your vans.
Add a personal touch
Finally, don't be afraid to add a personal touch to your vans-friendly socks. From fun slogans and sayings to quirky designs or bright colors, there are all sorts of ways to inject some personality into your look. As you search for the ideal pair of socks for vans that reflect your personality and style, ensure to have a good time doing so.
You are now aware of the factors to consider when choosing socks to wear with your vans. With your newly purchased favourite pair of socks suitable to be worn with vans shoes, rock them with confidence and style. Let's go over the tips to carry fashion with comfort.
Tips And Tricks On How To Wear Socks With Vans
Socks and vans go together like peanut butter and jelly. If you're wondering how to wear vans with socks, here are some tips and tricks to keep in mind:
First, you need to clean your feet with soap or antibacterial wipes. Doing this will prevent your socks from getting grubby or stinky.
You can choose from a wide range of sock styles to match your vans, including crew socks, ankle socks, over-the-knee socks, and more. Try pairing striped or patterned socks with your classic black or white vans for a cute look.
Before wearing, check the overall look of socks for holes or other damage. If you notice any issues, consider replacing them with a new pair.
Pick the socks in hand and put them on. Be sure to pull them up all the way, as this will help prevent your socks from slipping down or bunching inside your vans.
You can also use socks tools to ensure that your socks are the perfect fit, such as a sock aid or similar device.
Once fully dressed with your vans and socks, remember to accessorize. A trendy backpack or pair of sunglasses can really pull together your look and make it stand out from the crowd.
You have now mastered the art of wearing socks with vans. With these tips and tricks in your arsenal, you can confidently rock this look and feel stylish and comfortable simultaneously. But some people don't wear socks with van shoes. Let's examine its ok to wear sockless with vans.
Debate: Is It Appropriate To Go Sockless With Vans?
Yes, there is nothing inherently wrong with wearing vans without socks. Many people enjoy this look for its laid-back and carefree appeal.
Van shoes are typically made of materials like canvas or leather, which are breathable and can keep your feet cool even without socks. Therefore, if you don't mind the occasional foot odor or dirtiness, there is nothing wrong with vans no socks.
However, there may be some situations when it makes sense to wear socks with vans. For example, if you will be walking for a long time or doing any kind of physical activity in your vans, wearing socks can help keep your feet safe from injury or blisters.
Sockless feet can become stinky, so it's important to keep them clean by washing or wiping them during the day. Additionally, invest in a good pair of foot spray or powder to help keep odors at bay.
Frequently Asked Questions
Are Vans OK for wide feet?
Yes, vans are a great choice for people with wider feet, as they are typically made of stretchy and breathable materials that can accommodate a range of foot shapes and sizes.
Are Vans OK for wide feet?
Van shoes are a snug fit but not tight and should not feel uncomfortable or constricting. If you are experiencing discomfort when wearing vans, it may be a sign that they do not fit properly or are the wrong size for your foot. In this case, consider getting fitted at a local shoe store or trying on a different style of van.
Do Vans have arch support?
Yes, many van shoes feature arch support and other comfort features to help ensure a comfortable fit. If you have specific needs or preferences when it comes to shoe support, be sure to check the product description and specifications before buying a pair of vans.
Are Vans more comfy than Converse?
Van shoes are great for long-distance walking and standing, thanks to their supportive construction and cushioning. So, in general, vans are more comfortable than Converse for extended periods.
What is the most popular style of Vans?
The Old skool vans are one of the most popular styles of vans due to their classic design and versatility. Other popular styles include slip-ons, low tops, high tops, and platform sneakers.
Ultimately, whether you choose to wear vans with socks or go sockless is a matter of personal preference.
Conclusion
All in all, when selecting socks to wear with Vans, it's important to keep both style and comfort in mind. Pay attention to your surroundings and be mindful of the possible message you can send with a good sock choice. After all, your socks don't just add pop to an outfit—they can also add personality.
As someone once said, "Clothes make the man. Naked people have little or no influence on society." So put some thought into those socks, even if they sneak under everyone else's radar!